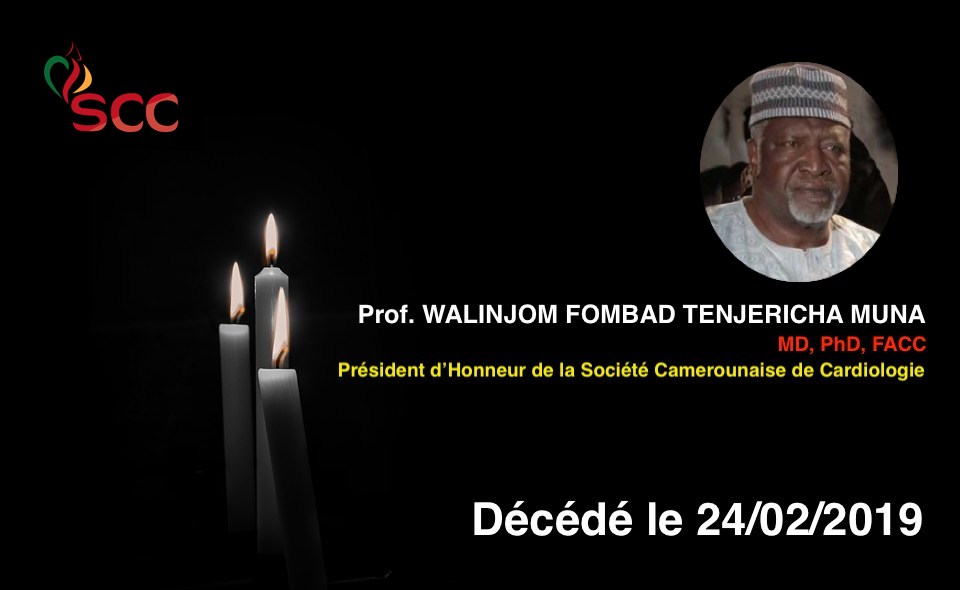 Prof. WALINJOM FOMBAD TENJERICHA MUNA
MD, PhD, FACC
La famille Muna a le regret d'annoncer le décès du professeur Walinjom Fombad Tenjericha Muna, MD. Le professeur Muna est décédé le dimanche matin, 24 février 2019.
Le Professeur Walinjom Fombad Tenjericha Muna était un professeur retraité de cardiologie et de médecine interne à la Faculté de médecine et des sciences biomédicales de l'Université de Yaoundé I, au Cameroun.
Il a été président du conseil d'administration de la clinique Daniel Mina Mémorial.
Cinquième des huit enfants du feu honorable Salomon Tendent Muna, ancien Premier Ministre du Cameroun occidental, vice-président du Cameroun et président de l'Assemblé Nationale du Cameroun. Il laisse dans le deuil son épouse Thérèse, un enfant unique – sa fille – Vanessa, son petit-fils Humphrey, sa soeur et ses frères, ses neveux et nièces et d'autres membres de la famille, ainsi qu'une belle famille.
Il a obtenu un baccalauréat en sciences (avec distinction) et une maitrise en biochimie de la Washington State University à Pullman Washington en 1969. Il a ensuite poursuivi parallèlement et obtenu un doctorat en médecine (1973) et un doctorat de la University of Washington en Seattle. Il est Fellow du American College of Cardiology (FACC).
Le professeur Muna a étudié la médecine interne au service Osler de l'hôpital Jonhs Hopkins à Baltimore (10974-1976) et la cardiologie au HLBI/NIH Bethesda Maryland USA (1976-1977) et à l'hôpital universitaire d'Yale-New-Haven (1977-1979).
Il a été chef de médecine et directeur général de l'Hôpital général de Yaoundé de 1988 à 1996 et coordonateur du Centre national de l'hypertension et de diabète.
Le professeur Muna a été président de la Société Camerounaise de Cardiologie et de la Société panafricaine de cardiologie. Il a également été membre de plusieurs groupes de travail internationaux pour l'Académie national des sciences et l'institut de médecine (Etat-Unis).
Le professeur Muna est membre fondateur de l'Académie des sciences du Cameroun et président de son forum sur la santé publique.Président du Comité national d'épidémiologie du Cameroun depuis plus de deux décennies, expert et conseiller de l'OMS en matière de maladies cardiovasculaires, il a participé à plusieurs groupes de travail et conférences locaux, régionaux, continentaux et internationaux sur la lutte antitabac.
Il a dirigé l'élaboration d'une législation antitabac complète pour le Cameroun. M. Muna était président de la commission de contrôle du tabac pour l'Afrique. Il a été président du comité d'éthique du Centre de recherche international Chantal Biya et président actuel du groupe consultatif technique de l'OMS sur la santé en ligne.
Le professeur Walinjom Fombad Tenjericha Muna était un chevalier, commandant et grand officier de l'Ordre National de la valeur du Cameroun et a reçu autres distinctions locales et internationales au fil des ans.
L'avocat Bernard Muna,
Au nom de la famille Muna.